10060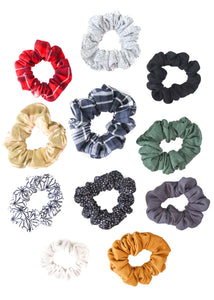 The Retro Scrunchie (2 pack)
We're bringing scrunchies back...to the outdoors.   
Embrace your inner 90's, throw your hair up, and take a hike with these Canadian handmade beauties. 
A perfect hair tie and wrist accessory, made from ultra-soft upcycled cotton fabrics in a variety of unique colours and patterns. 100% gentle on hair. 100% unique.
Colours and patterns may vary slightly from photos (in true OOAK fashion).
Each pack includes 2 medium sized scrunchies. Grab the "Mystery Pack" for an even more uniquely curated duo!

Upcycled super soft cotton and rayon fabrics.

Ultra stretchy and gentle on hair.

Made in Canada, always.

Each pack sold = one tree planted!
About the Maker

Each scrunchie is handmade by favourite nature-loving crafty, Dominique from thelilSCRUNCHstore. Dominique sources high-quality thrifted fabrics to make one-of-a-kind hand sewn items in Guelph, Ontario. We're thrilled to have collaborated with her to design and make eco-friendly versions of her iconic scrunchies.