10082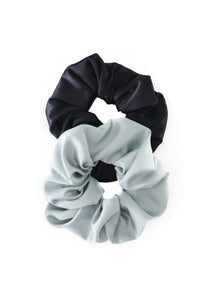 The Mega Scrunchie (2 pack)
We're bringing scrunchies back...to the outdoors.   

Embrace your inner 90's, throw your hair up, and take a hike with these mega-sized handmade scrunchies.


A perfect hair tie and wrist accessory, made from upcycled satin and silk fabrics in a variety of unique colours and patterns. 100% gentle on hair. 100% unique.
Colours and patterns may vary slightly from photos (in true OOAK fashion).
Each pack includes 2 mega-sized scrunchies. 

Upcycled high-quality fabrics.

Gentle on hair, lovely on the wrist.

Made in Canada, always.

Each pack sold = one tree planted!
About the Maker

These scrunchies are handmade by Savannah and Sara from Sewhipsterr, a talented duo who make locally sourced, hand made items using recycled materials and sustainable products! They are based in Saskatchewan and make all sorts of planet-friendly items.