1234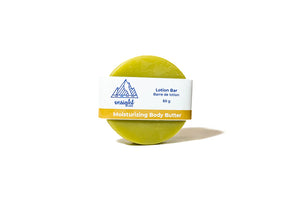 The Lotion Bar
Stay fresh outdoors with the Lotion Bar!

Onsight Care's Lotion Bar is carefully formulated with moisturizing mango butter and infused jojoba oil to create a solid body lotion that is easy to use, ultra nourishing for all over softness. Mildly scented with frankincense essential oil.
Gentle, pure ingredients make this bar great for your whole body, including your face and even moisturizing tattoos in their healing stages.
Travel friendly = no liquids meaning you can take it on the plane with no fuss to hydrate dry skin anytime, anywhere.
Ethically made in Nelson, BC.

Made for adventurers.

All natural ingredients.
Lasts approx. 3 months depending on personal use.
Saves plastic waste.

Each bar sold = one tree planted!
How it works: Mango Butter, Hempseed oil, Cocoa Butter, Candelilla wax, Jojoba oil, Helichrysum flower, Frankincense essential oil.

To Use: Use just as your current lotion and glide onto dry skin, or rub between hands then apply. Goes on clear. Can be prone to melt if left in direct sunlight or heat, please keep in cool dry space to prolong its life.

Pro Tip: Hold on skin for moment to heat up first, then glide for easier application.
Ingredients: Shea Butter, Arrowroot Powder, Cocoa Butter, Candelilla wax, Coconut oil, Magnesium Hydroxide, Bentonite Clay, Tea Tree and Lavender Essential oils.
About the maker
Erica Primeau is the owner and maker behind Onsight Care. Onsight Care provides natural, sustainable solutions for climbing skin care and travel essentials. Erica started her business from her love of rock climbing with the Skin Salve, and slowly expanded for her love of travelling with the rest of her liquid free product line. Erica loves nature and learning how to harness its goodness for her products -- it is her passion. We're proud to support her Canadian, planet-friendly business through this feature collaboration and thank you for giving her sweet products a try!