10096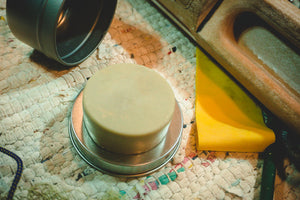 The Lavender & Tea Tree Deodorant Bar
Stay fresh outdoors with the Lavender & Tea Tree Deodorant Bar!

Onsight Care's Deodorant Bar is excellent at absorbing and neutralizing odors to keep you feeling fresh all day long. Slightly scented with Lavender and Tea Tree essential oils.

Ethically made in Nelson, BC.

Made for adventurers.

All natural ingredients.
Lasts approx. 3 months depending on personal use.
Saves plastic waste.

Each bar sold = one tree planted!
How it works: Bentonite Clay absorbs moisture and toxins from the skin quickly which helps eliminate odor. While Magnesium replaces baking soda with a more gentle approach to killing bacteria on the skin that cause odor, without blocking your pores.

To Use: Use just as commercial deodorant and glide onto underarms. Goes on clear. Can be prone to melt if left in direct sunlight or heat, please keep in cool dry space to prolong its life. 
Pro Tip: Hold on skin for moment to heat up first, then glide for easier application.
Ingredients: Shea Butter, Arrowroot Powder, Cocoa Butter, Candelilla wax, Coconut oil, Magnesium Hydroxide, Bentonite Clay, Tea Tree and Lavender Essential oils.
About the maker
Erica Primeau is the owner and maker behind Onsight Care. Onsight Care provides natural, sustainable solutions for climbing skin care and travel essentials. Erica started her business from her love of rock climbing with the Skin Salve, and slowly expanded for her love of travelling with the rest of her liquid free product line. Erica loves nature and learning how to harness its goodness for her products -- it is her passion. We're proud to support her Canadian, planet-friendly business through this feature collaboration and thank you for giving her sweet products a try!