10098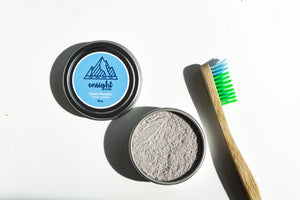 The Spiced Mint Tooth Powder
Stay fresh outdoors with Spiced Mint Tooth Powder!
This all natural tooth powder leaves your whole mouth feeling clean and fresh with a spiced minty taste. Perfect for camping, our liquid-free formula leaves you worry free about oversized liquids in your travel bags! 
Ethically made in Nelson, BC.

Made for adventurers.

All natural ingredients.
No toxins, Glycerin, SLS, or Fluoride.
Each powder sold = one tree planted!
How it works: The bentonite clay base not only cleans, but also draws out impurities and remineralizes your teeth. While other ingredients also help with maintaining odor and teeth health. 

To Use: Simply wet your toothbrush and dip into powder. Brush as normal. Toothpowder will foam, but not as much as traditional toothpaste.

Ingredients: Bentonite clay, Xylitol, Baking soda, Himalayan salt, Calcium powder, Essential oils of Clove, Cinnamon, and Peppermint.
About the maker

Erica Primeau is the owner and maker behind
Onsight Care
. Onsight Care provides natural, sustainable solutions for climbing skin care and travel essentials. Erica started her business from her love of rock climbing with the Skin Salve, and slowly expanded for her love of travelling with the rest of her liquid free product line. Erica loves nature and learning how to harness its goodness for her products -- it is her passion. We're proud to support her Canadian, planet-friendly business through this feature collaboration and thank you for giving her sweet products a try!